True joy lies in the act of giving
November 22, 2017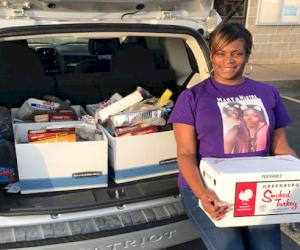 Have you ever heard the saying, true joy lies in the act of giving? Tyler Pipe team member Melody Hawkins will tell you that is definitely the truth.  You see, Melody had a vision and a heart as big as the state of Texas.  She wanted to adopt families in need during the Thanksgiving holiday like she had done in the when she was in the military.  She wanted to collect money from salaried team members in exchange for a modified dress code for a week.  This is how it worked - donate $20.00 and you can wear jeans for the entire week, donate $10.00 and you can wear a hat the entire week or donate $5.00 and your name will be put in a drawing for a gift card to a local restaurant.

Team members really dug deep for the cause and were elated to be able to hang up their business attire and wear jeans and a hat for an entire week.  Casual Friday became casual week.  General Manager Greg Simmons liked the idea so much he agreed to match dollar for dollar everything Melody collected.  We are pleased to report that Melody raised $475 and with Greg's match she collected a total of $950.  Her goal was to feed at least 2-3 families, but she had enough money to feed five families and a girl's home.  She purchased dinner for each of the five families that included a Greenberg turkey, a ham, green beans, potatoes, corn, rolls, sweet potato pie and sweet tea and water.  This was a Thanksgiving dinner like no other.

Way to go Tyler Pipe team for really living up to Thanksgiving, just by being THANKFUL IN GIVING.