Tyler Pipe honors four extraordinary retirees
April 22, 2019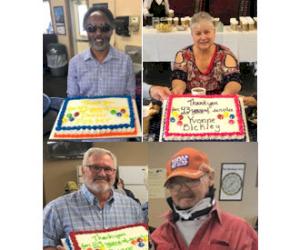 (Pictured L-R, top to bottom: Dexter Foster, Ester Bickley, Duane Scritchfield and James Stephenson)
What do you have when you've got 370 chicken fried steaks, 60 pounds of mashed potatoes, 130 pounds of whole kernel corn, 400 biscuits and rolls, all the sweet and unsweet tea you can drink, four full sheet cakes and 8 dozen cookies?  Sounds like you have the makings for one heck of a retirement party.  On March 28, Tyler Pipe celebrated the retirement of four long time team members and friends James Stephenson, Ester Yvonne Bickley, Dexter Foster and Duane Scritchfield.  These four individuals combined have over 160 years of service at Tyler Pipe.  In fact, 40% of Tyler Pipe's workforce has over 25 years of service. 

James Stephenson started working at Tyler Pipe in 1973 as a Garage Serviceman making $2.61 per hour.  Prior to joining Tyler Pipe, he worked for Ronnie Lambert Exxon Service Station as a driveway salesman.  The interviewer at the time noted that he had to wait until after 3:00 pm to interview James because that was after school. James was an active participant in making sure that Tyler Pipe was a safe place to work.  In 2017, he was awarded the first ever McWane Kent Arnold Significant Health & Safety Award.  The nominating committee wrote, "James exemplifies proper safety habits and sets the example for others in the plant."  He served on multiple committees like the Machine Safe Guarding, Lockout/Tagout, Joint Union/Management Safety Committee and served as the Maintenance Safety Representative.  James retired from Tyler Pipe after 46 years of tireless service.

Ester Yvonne Bickley joined the Tyler Pipe team as a Warehouseman in 1975 making $3.05 an hour when she was 25 years old after being laid off by General Electric. The position must have suited her because over 40 years later she was still working in the same job. Yvonne's supervisor Bruce Wood said that Yvonne was one of the best. Yvonne is staying busy and enjoying retirement. When they last spoke to her she had just been to the feed store to buy grass seed so she could reseed her acreage.  Although she sold all her cattle, it sounds like that hobby was probably replaced by gardening.  Her fellow team members miss Yvonne's wit, experience and intelligence.

Dexter Foster wore a number of hats during his time at Tyler Pipe.  He began working for Tyler Pipe in 1976 as a General Clean Up Laborer.  Just prior to coming to Tyler Pipe, Dexter worked at Blue Bonnet Laundry in Mineola, Texas. Within a month, Dexter's hard work and dedication paid off and he received a promotion to the Pallet Conveyor work unit.  In  1979 Dexter transferred to the Millroom where he performed tasks such as Portable Bench Grinder, Chipper-Grinder, Wade Product Grinder and Fittings Process Salvage Operator, but the job that he went back and forth to and from was the Fittings Millroom Line Tender and Casting Processor.

Dexter acted as lead person on the line and has shown hundreds of new hires how to properly inspect, sort and stack fittings for the distribution to customers.  When Dexter decided that it was time to retire, his long-time supervisor Brent Smith laughed and said, "When Dexter retires, I will have to hire two people just to do the work that Dexter did.  Dexter has been in the Millroom so long he is like a permanent fixture there.  One thing is for sure, the Millroom will not the same without him shuffling through the thousands of fittings."

Duane Scritchfield has had an amazingly convoluted story at Tyler Pipe. When Scritch retired, they congratulated him for 29 years of service at Tyler Pipe.  A stroll through his employment folder shows that Duane worked for Tyler Pipe at least three separate times and in total provided 40 years of service holding a multitude of jobs.  Scritch first obtained a job with a reference letter from Kenny Jackson.  Mr. Jackson wrote, "I have known Duane since elementary school. In my opinion you have a very well trusted and gifted person. If he is hired, I believe you will have made a very good choice."  These words helped Duane get his first job as a Mail Clerk in the mailroom.  Duane worked there for about a year then left Tyler Pipe and returned one month later, this time in the Receiving and Stores Warehouse.  His most notable job came in 1973 when he began his long-time career in Maintenance. Duane left Tyler Pipe again in 1982 then returned in 1988.  He was a direct hire into the maintenance department returning as a Maintenance Mechanic B at the going rate of $8.72 an hour.  And the rest is history.

When you have this many people retiring with this much tenure, there are a lot of hugs, hand-shakes, smiles and pats on the back.  There are volumes of stories that have been shared and experienced.  Whether we want to or not, we build our lives around our work, the people we interact with and the friendships that we foster.  Tyler Pipe has been providing this environment since 1935 which is why people who come to work at Tyler Pipe stay for decades.  We will miss these retirees but with their departure we get to welcome a whole new generation to Tyler Pipe.