Tyler Pipe recognizes volunteers
October 8, 2019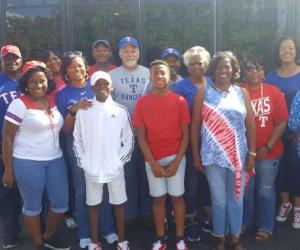 Tyler Pipe understands and recognizes the importance of helping to improve the lives of the less fortunate. This year was a big year and there were lots of opportunities for team members to give back to the community and lend a helping hand. Tyler recently recognized and rewarded team members who volunteered at more than 50% of company sponsored community events throughout the year by presenting them with the Choice Award. Award winners could attend the final Texas Rangers MLB game in Globe Life Park in Arlington, Texas, or receive a dinner and a movie gift card from Studio Movie Grill.

This year's game against the New York Yankees was special because It was the final game of the season and the final game to be played at Globe Life Park. You see the Texas Rangers built a new ballpark and starting next year all the games will be at the new ballpark which features a retractable roof.

Tyler Pipe HR Manager Faye Pettigrew said, "I can honestly say, this was one to remember. Everyone had a great time and to top the evening off, even though the Rangers were not in the playoffs, they beat the Yankees who were in the playoffs."

Thanks to all the Tyler Pipe team members who generously give their time to help others.