Tyler Pipe team volunteers at East Texas Food Bank
August 8, 2018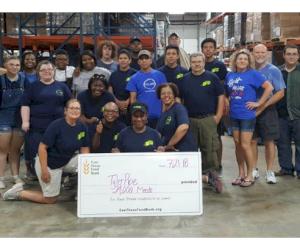 Tyler Pipe enjoys a longstanding relationship with the East Texas Food Bank. Continuing the tradition last Saturday Tyler Pipe volunteers spent the morning at the Food Bank putting together boxed meals for the elderly. In "Tyler Tough" fashion they worked together to box up 24,000 meals. Tyler HR Manager Faye Pettigrew said, "Believe me my sweating back felt every bit of it, but it was oh so rewarding."

The East Texas Food Bank is one of Tyler Pipe's favorite non-profit organizations and they are always so grateful for any monetary donations as well as our time.

Way to pay it forward in the community Team Tyler.